Original Article http://www.theplayerstribune.com/brian-leetch-wayne-gretzky-only-in-new-york/
Hockey players will often tell you how special it is to play in New York, but I have the story to prove it. Let me take you back to 1989, to tell you about my 21st birthday party in Manhattan.
I almost missed it, actually.
I was in my second season with the Rangers and we had just played a game at Madison Square Garden. A few of my buddies took me out for dinner, and as soon as we finished, I could see them getting antsy.
My one buddy said, "Hey, Brian, let's go to this other bar."
I said, "Nah, I'm not in the mood. Let's just stay here."
"No, no, no. Look, we gotta go."
"Nah, I don't wanna go. You guys go."
This went on for a few minutes, and I couldn't figure out what the heck was going on. Finally, my buddy breaks down and says, "Oh for Christ's sake, we planned a surprise party for you. The whole team is waiting at the bar."
I was so embarrassed. So we hurry over there and as soon as I walk in the door I see it's literally everybody. Every single Ranger with their wives and girlfriends.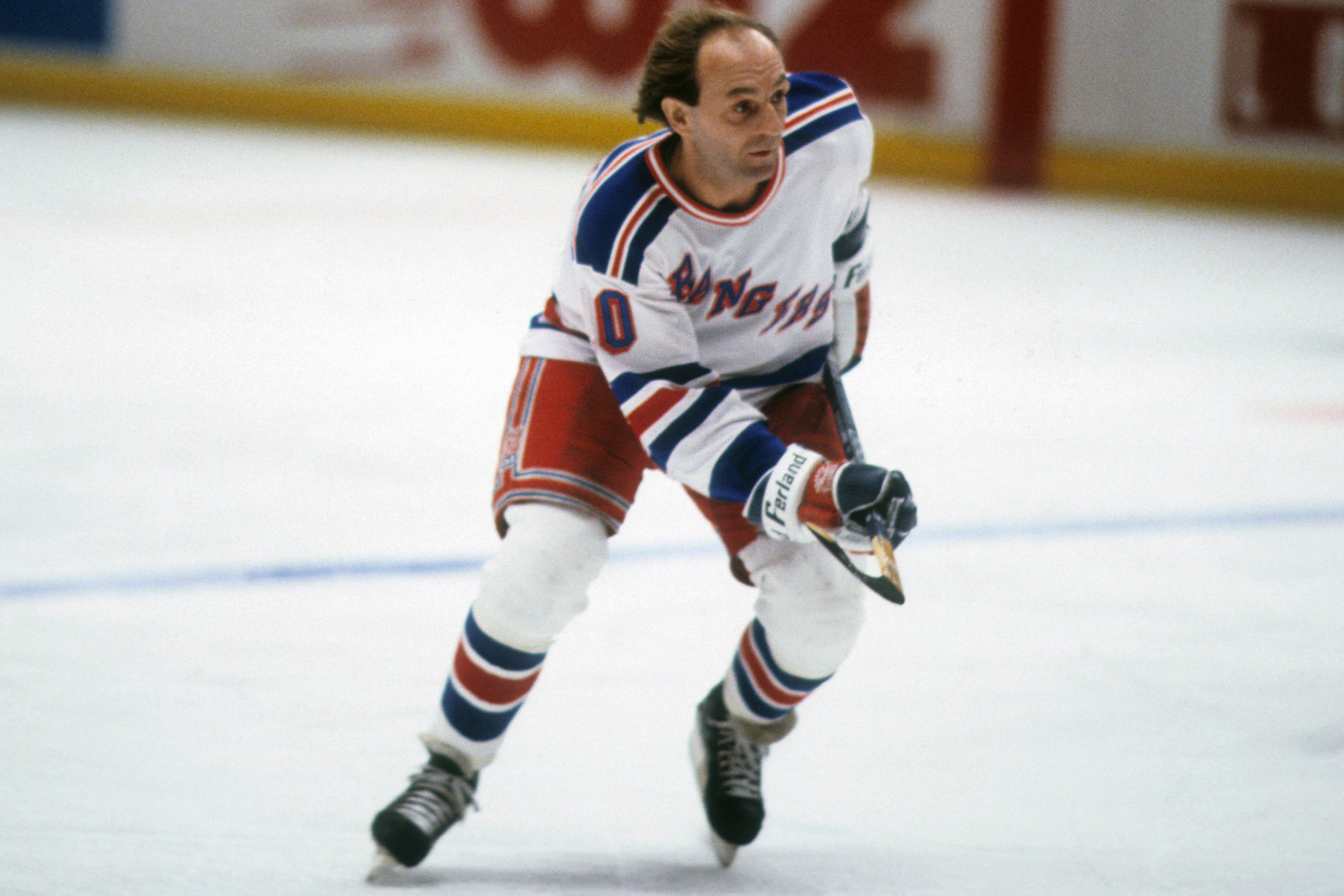 PHOTOGRAPH BY B BENNETT/GETTY IMAGES
Even Guy Lafleur showed up to celebrate. The legend. Guy had just come out of retirement that season to play for the Rangers. Please remember that I'm a 21-year-old kid. I sit down and I'm celebrating with Guy and Marcel Dionne.
The beers come out. The shots come out. Everybody is trying to embarrass the young kid, of course. They were trying to get me to make some mistakes.
So at some point this big glass of who-knows-what gets handed to me, and I go to take a drink when this big hand takes it away.
It's Guy.
He raises the glass to his nose and takes a sniff.
You can just imagine him with the hair flowing in the back and the deep French-Canadian accent, he says, "Oh no, kid. Oh no. That's not for you. You leave that alone."
He passes the glass around to everybody else and says, "You take a sip. Now you take a sip."
By the time the glass got back to me there was maybe two drops left.
Guy was looking out for me. He knew I was still a rook when it came to the bars.
I still laugh about that night. I mean, I just imagine if somebody had told me when I was 12 years old playing hockey in Connecticut, "Hey kid, you know who's going to come to your 21st birthday? Guy Lafleur and Marcel Dionne."
What? Did I win a contest? What happened?
The idea of playing on the same team with them at Madison Square Garden would be inconceivable. When I was a kid in the '70s, my dad was a pilot in the Air Force and he wanted to stop moving around so much, so he got a job managing an ice skating rink in Connecticut.
I still remember going all around my neighborhood trying to convince every kid I could to come learn how to skate at my dad's rink. Hockey was barely on TV. The Whalers weren't even in the NHL yet. It was like trying to spread the gospel to my friends. As an American, the idea was never — seriously never— that you were going to grow up and play in the NHL. Maybe you could play in college. Or maybe, if we got really good, the Olympics. I remember when I'd catch a 15 second clip on the news of the Oilers or the Canadiens playing, it was like watching a movie. It wasn't reality.
My dad would get Sports Illustrated delivered to the house, and in '81 Wayne Gretzky was on the cover in his Oilers jersey. I was this 13-year-old kid, flipping through the magazine, reading about Gretz's stats in amazement, but I had barely ever seen him play except for a few VHS tapes.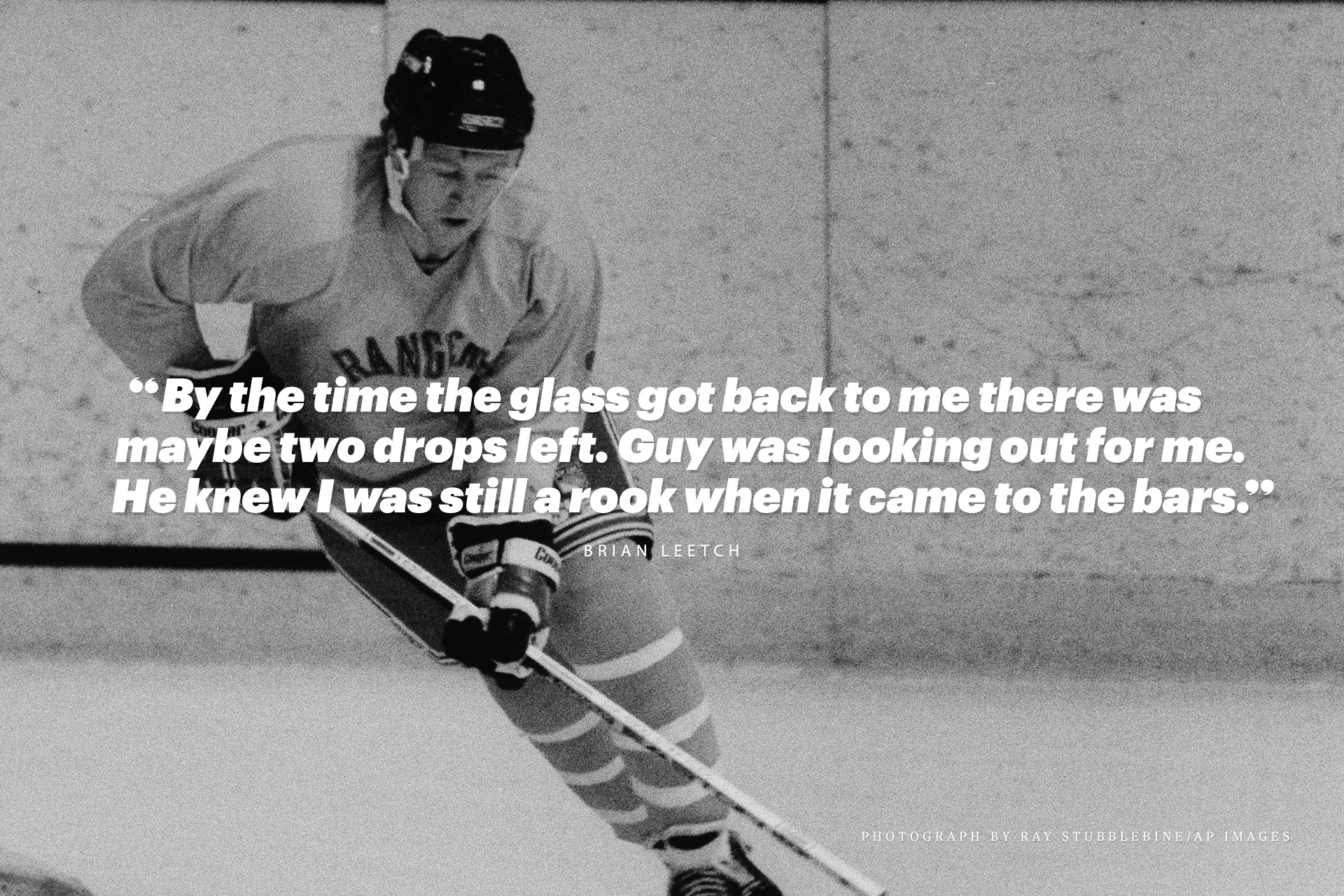 Fast forward just seven years later, and I'm standing on the ice at Madison Square Garden. I got drafted by the Rangers out of high school and joined the team after playing in the '88 Olympics.
It's my 12th game. We're playing the Edmonton Oilers.
The face-off is in our zone. I look across from me. Jari Kurri is lining up on the hash mark.
I look to the dot. There's number 99.
Shirt tucked in. Pants pulled up high. Same blue JOFA helmet. Same white TITAN stick with the same white tape job.
Yep, that's really him.
It was like he stepped off the magazine cover and was standing five feet in front of me.
I actually shook my head and laughed out loud.
I'm playing against Wayne Gretzky.
I remember the sweat was dripping off him, and I thought, Well, at least he sweats like everybody else.
The puck dropped, and it was all a blur after that.
It's really remarkable how quickly your life can move. One year after I played that memorable game against Gretz, I had my infamous 21st birthday party with Guy and Marcel. Two years after that, the Rangers traded for Mark Messier — a guy who had the most profound impact on my hockey career of anybody I ever played with.
By '94, we were parading the Stanley Cup down Broadway in front of 1.5 million New Yorkers. There were so many times during my career when I'd be talking to my father and we'd just shake our heads and say, "How could it ever get better than this?"
Well, I had one idea.
PHOTOGRAPH BY BRUCE BENNETT STUDIOS/GETTY IMAGES
Mess was my roommate on the road, and he used to to talk to Gretz on the phone all the time. Obviously they were very close from their years in Edmonton. I'd just be sitting on the other bed in our hotel room after a morning practice, and Mess would dial up Wayne.
They would talk about the league and how things were going. I remember thinking how cool it was that I was sitting there listening to these two guys talk hockey.
I would joke with Mess all the time like, "Hey, you wanna call up Wayne and see if he wants to come to New York? Just ask him."
Mess would smile and say, "Hey, you never know."
When Wayne got traded to St. Louis in '96 and it looked like he wasn't going to stay there long-term, my jokes with Mess went to a whole different level. That summer, the rumors started to pick up that it was a possibility that he would sign with the Rangers, and I couldn't help but get excited.
At that point, I was a veteran. But still. It was Wayne.
Then on July 21, 1996 — 20 years ago to the day — the news broke. Gretz was coming to New York. I can't recall where I was when I found out, but there's one moment I'll never forget, and that's walking into the locker room at MSG for the first time and seeing my jersey hanging in my stall next to number 99 and number 11.
It's funny — when you're playing against Wayne, you're so focused on doing whatever you can to take him out of the play. You're just trying to contain him and keep him in front of you.
But playing with him every day, especially in practice, gave me a greater appreciation for how remarkable he was as a playmaker. There would be times when he would have his back completely turned to me — he would be way across the ice. I figured there was no way he could see me, so if I was a tired I'd let up on the play a little bit.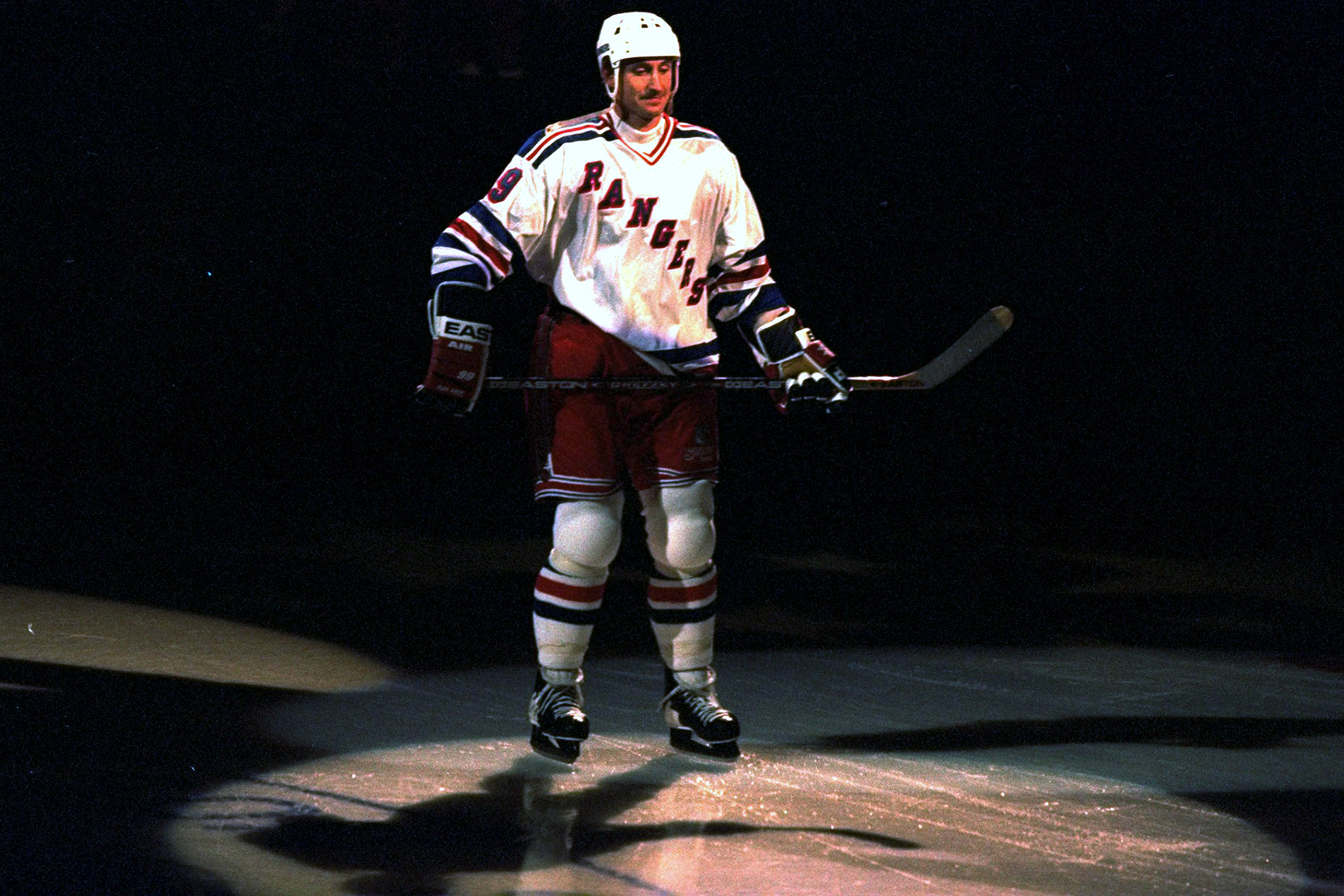 PHOTOGRAPH BY KEITH TORRIE/NY DAILY NEWS/GETTY IMAGES
All of a sudden, the puck would come flying across the ice, six inches in front of me. Right to the spot I should've been if I'd kept skating.
Wayne didn't just know exactly where you were. He knew exactly where you were going to be — or where you should be — a half second later.
Sometimes I'd just have to laugh, because I'd be standing at the point when the puck was behind the opponent's net. It would be total chaos. Bodies everywhere. Wayne would be in his office back there behind the net, and the whole team would be collapsed on him.
All I'd see was a mess of legs and sticks. Out of nowhere, the puck would squirt out to the front of the net, right onto a teammate's stick. It would be in the back of the net before I even knew we had a scoring chance.
I'd be skating into the celebration thinking, Well, that shouldn't have worked, but it did.  
Gretz made the impossible not just possible, but almost routine. Low-percentage plays, in the hands of 99, were high-percentage plays.
I could talk about Wayne's on-ice brilliance all day, but that's not what means the most to me. What I really appreciate is how he handled himself with class and dignity everywhere he went.
Janet's posters were on lot of bedroom walls in suburban Connecticut in the '80s.
I ended up becoming great friends with Wayne when he came to New York. I was just dating my wife at the time, and she became friends with Wayne's wife, Janet. She and Wayne lived in the city, so we would all commute to games together and go to dinner. I have to say, it was a little bit surreal because to kids of my generation, Janet Jones was the girl on the movie posters.
The Flamingo Kid. American Anthem.
Janet's posters were on lot of bedroom walls in suburban Connecticut in the '80s.
So, as you can imagine, the Gretzkys would attract a lot of attention when we'd go out to dinner. I was always blown away by how well Wayne handled it. People take it for granted now, but there was a time when hockey in America was really in need of an ambassador. What Wayne did for the sport by playing in Los Angeles and New York was really amazing, but I think even more than that, the way he handled the spotlight set an example for all the young superstars in the game today.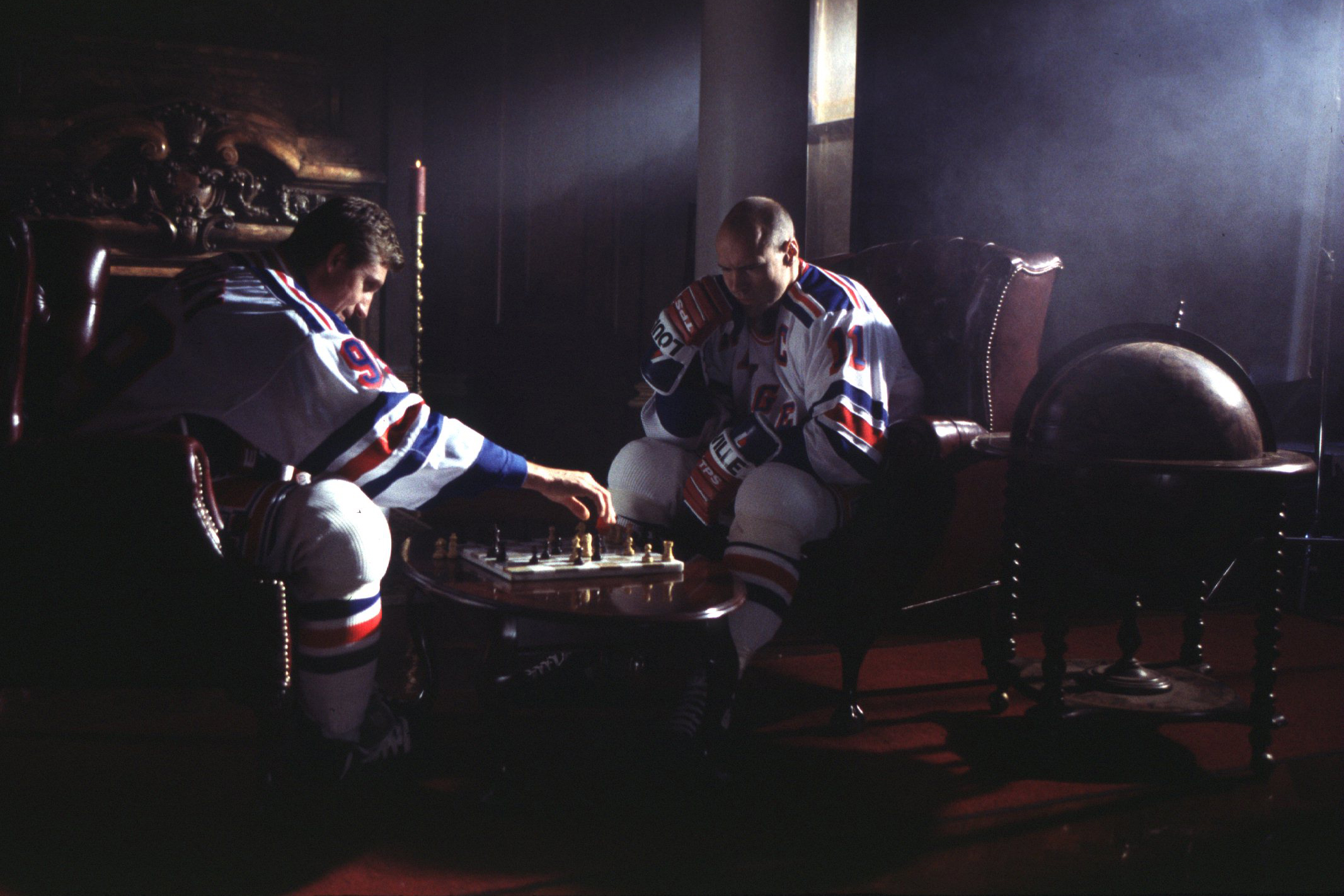 PHOTOGRAPH BY AL BELLO/GETTY IMAGES
I remember Mess telling me how Wayne was already in that mode coming up at 18 in Edmonton. Mark was amazed at how he was able to juggle everything with class and still be himself in the public eye.
I saw this firsthand when my wife and I got married in '99. We had invited Wayne and Janet to the wedding, and I remember warning all my friends and family beforehand that they were coming, and to play it cool.
Everybody was good for the first few hours, but my wife's family is from New York, so as the night went on and people started having a few rounds of drinks, you could slowly see people migrating over to Wayne and Janet's table.
Pretty soon, the cameras were coming out.
"Sorry to bother you, Mr. Gretzky, but uh …."
He smiled and took every photo.
I remember standing with my wife and looking across the room, and I think half the wedding party was around Wayne's table. We just shook our heads.
What can you do? It's Wayne.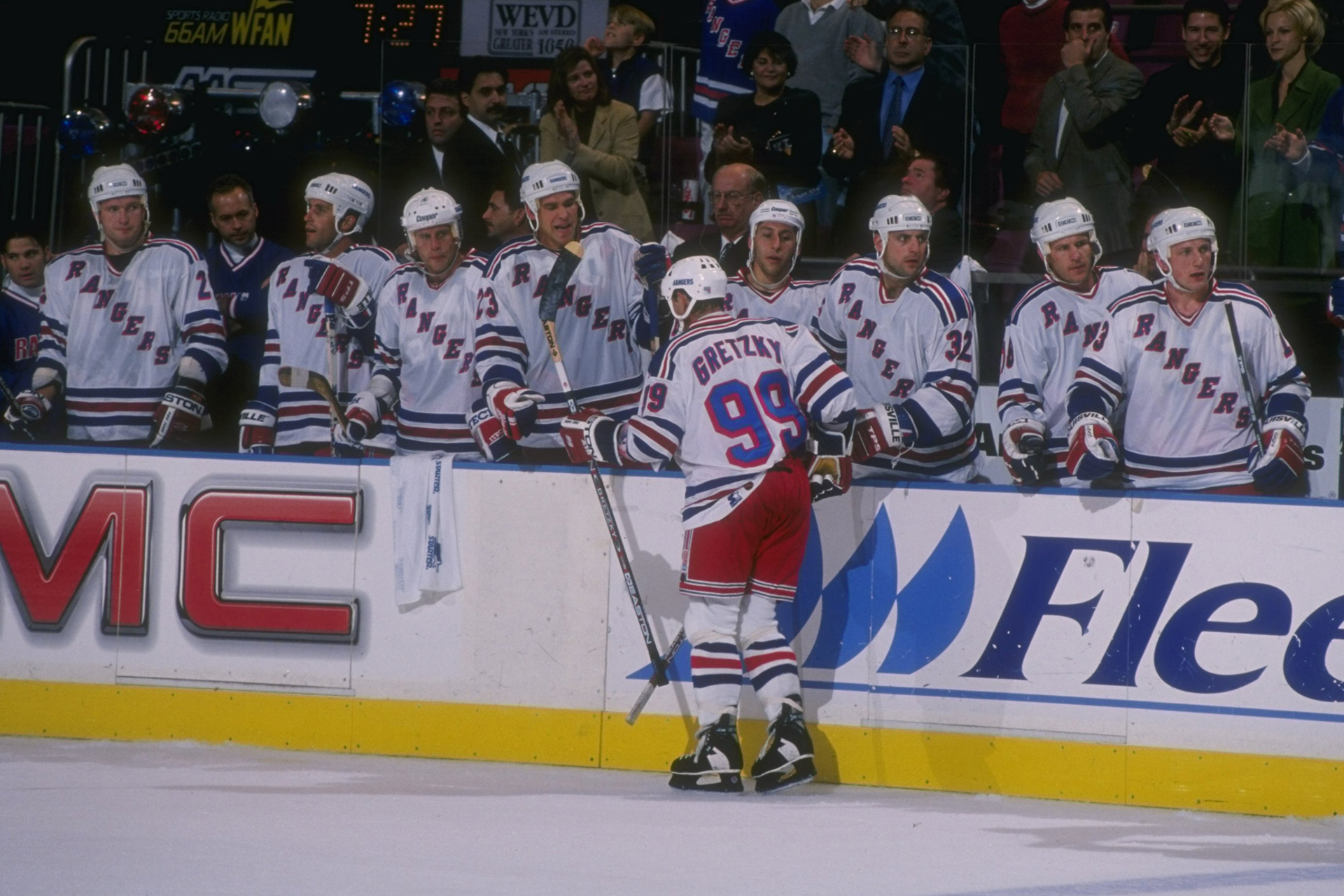 PHOTOGRAPH BY NATHANIEL S. BUTLER/GETTY IMAGES
Winning the Stanley Cup with the Rangers in '94 will always be etched in my memory, but when I think back on wearing that sweater now, what's most amazing to me is how many legendary players I shared a locker room with.
I'd just sit there sometimes like a fly on the wall and listen to their stories.
If only you could've told me when I was 13.
"Kid, someday Guy Lafleur is going to save you from a hangover, and Wayne Gretzky is going to come to your wedding."
Only in New York.